Alberta
Library partners with Calgary Jewish Foundation for Holocaust Remembrance Day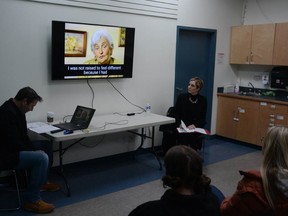 content of the article
Airdrie Public Library hosted a guest speaker on Friday, January 27 during Holocaust Remembrance Day, bringing a presentation by Laura Olschewski in partnership with the Calgary Jewish Foundation.
content of the article
As part of the Calgary Jewish Foundation's Second Voices project, Olschewski told the story of her grandmother, Eva Davis, a Jewish Holocaust survivor who served time in a series of concentration camps during World War II.
Davis survived 11 months of forced labor in concentration camps such as Auschwitz, Ravensbrück, and Beendorf.
She was a naturally gifted singer. A gifted soprano, Davis had to sing at a Christmas party for Nazi officers and even performed for Adolf Hitler once.
When she was finally freed, she began a new life in Calgary, choosing to have a loving and optimistic outlook on life despite the horrors she was experiencing. When she died in 2008, she was a grandmother of five and a great-grandmother of nine.
content of the article
Lisa Murphy Lamb, programming and customer engagement manager at Airdrie Public Library, said the library hopes to offer more opportunities to facilitate conversations about serious historical issues like the Holocaust.
"I would hope that the library would be open to a series of these types of conversations and that this would be the start of where we would examine world politics and situations, both past and present," said Murphy Lamb.
"It was well attended, so I'm hoping that's a spark. It was sold out, so hopefully we can have more discussions like this because they're very important," she said.
She said the insights provided by Olshewski brought much perspective to the story surrounding the Holocaust.
content of the article
"We are all about knowledge and expanding our understanding. It was fantastic to have someone speak firsthand and then have books that discuss what was discussed," she said.
Murphy Lamb said the library is grateful that Olschewski personally narrated her grandmother's stories.
"It is a beautiful responsibility and honor to learn your grandmother's story, and especially one that is so profound and impactful," she said.
"I think we're lucky that we can share it."
She added that they hope to work with the Calgary Jewish Foundation again in the future.
"We'll definitely investigate another one."
There is no shortage of cultural events and activities taking place at the library. People can keep up to date with what's going on at airdriepubliclibrary.ca/events.