Alberta
'On a journey': AHS, Alberta Native Friendship Centres sign three-year agreement
"We look forward to working with AHS to improve health outcomes for urban Aboriginal people. This is a positive start on a journey between our state association, our community-based friendship centers and AHS."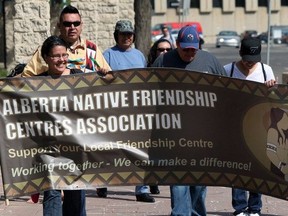 content of the article
Alberta Health Services and the Alberta Native Friendship Centers Association have signed a three-year agreement focused on improving access to culturally safe healthcare and health outcomes for Indigenous peoples.
content of the article
The agreement, which continues the collaboration between the two organizations, was announced in a press release on Saturday.
content of the article
"For many years we have worked with the Alberta Native Friendship Centers Association to break down barriers and build trust with Indigenous customers," said Mauro Chies, interim president and CEO of AHS, in the press release.
"Friendship Centers continue to provide a safe place and voice for Indigenous customers, particularly those living outside of traditional areas and settlements. The relationship we continue to nurture is important to the health and well-being of all Indigenous peoples, and we count on that relationship to improve health outcomes for Indigenous customers. We are honored to sign this agreement today and look forward to continuing this valuable partnership."
content of the article
The Alberta Native Friendship Centers Association (ANFCA) supports 21 centers across the province that respond to the needs of the communities they serve. The centers offer programs and services including accredited alternative schools, day care centers, youth centers, employment programs, homeless shelters, cultural camps, socioeconomic programs, health promotion and prevention, and life skills programs.
"We are very pleased to have signed this meaningful agreement with AHS and to have our provincial board witness to this very important step forward," said AFCA President Len Morissette.
"We look forward to working with AHS to improve health outcomes for urban Aboriginal people. This is a positive start on a journey between our state association, our community-based friendship centers and AHS."
content of the article
An AHS outage delaying operations triggers a third-party investigation

'Doctors are desperate': Edmonton doctors call for UCP action as strain on healthcare system takes its toll
ANFCA has been a member of the AHS Indigenous Health Core Committee since its inception in 2016. It has helped shape the AHS Indigenous Health Commitments: Roadmap to Wellness and ensure that the voices of urban indigenous people are present and influence health priorities.
The agreement between AHS and ANFCA commits both organizations to the shared principles of equal partnership, mutual respect, shared learning and binocular vision, which combines indigenous ways of knowing and Western views, and promotes health and well-being.
content of the article
In the past, the two organizations have worked together to support Indigenous clients during the COVID-19 pandemic, helping with access to vaccines, and providing support after the 2016 Grande Prairie floods and Fort McMurray wildfires, in addition to day-to-day support Interactions in Support of Mutual Customers.
Jeanette MacInnis, acting executive director of ANFCA, said positive and authentic relationships are an essential part of supporting tribal peoples.
"Friendship centers have provided programs and services to indigenous peoples for over 60 years, and their role in providing health programs and supportive services has been underappreciated and overlooked for decades," MacInnis said.
"ANFCA looks forward to continuing our positive working relationship with AHS with this new relationship agreement, and to nurturing the voices of the 21-member Friendship Centers and the communities they serve."