Alberta
Which Edmonton wards have the most cannabis stores?
O-day'min in the core (26), Karhiio in the southeast (24), Anirniq in the northwest (23), and Papasew in south-central Edmonton (14)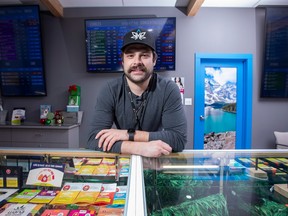 content of the article
Data from the City of Edmonton shows that a handful of boroughs are home to the majority of the city's cannabis stores.
content of the article
A December list of cannabis retailers identified more than half of the 162 retail licenses for these businesses in four of the city's 12 wards: O-day'min in the core (26), Karhiio in the southeast (24), Anirniq in the northwest ( 23) and Papasew in south-central Edmonton (14).
content of the article
Joshua Vera, President and CEO of Elevate, has stores in three of these districts, including one downtown adjacent to the Ice District, one in the Dominion Industrial Area along 118 Avenue and 145 Street, and a cannabis pit stop on Gateway Boulevard nearby from 61 avenue.
While the focus on certain areas may seem intentional, since legalization he's seen retailers, particularly independent owners, scout across the city for suitable storefronts.
content of the article
"It was just a challenge to find a place that wasn't already occupied or cordoned off by one of the larger conglomerates," he said.
The double edge of downtown
As for Downtown's appeal, Vera said many hopeful owners were likely drawn by the area's population density and foot traffic — but that doesn't mean a business at its core is guaranteed to succeed.
"There's not a lot of parking and not everyone is out during the winter months, so that's going to impact your ability to make sales," Vera said, adding that demographics are a bigger concern. "You can have all the people in the world around you, but if none of them use cannabis, you're not going to do very well."
Curtis Martel, President of Mountain Standard Cannabis, has four locations in the city, including two in the core neighborhoods of Queen Mary Park and Spruce Avenue, and stores in Balwin and Killarney.
content of the article
The latter two are part of Ward tastawiyiniwak, one of the less popular areas for cannabis shops with only six licenses identified by the city.
concentration is a concern
Like Vera, Martel said its own locations were based on suitability and availability. But aside from dealing with demographics, retailers are struggling to find space as stores proliferate.
"Even the low-concentration areas have too high a concentration," he said. "You can walk to another store from almost anywhere in Edmonton."
While its Balwin location at 66 Street and 127 Avenue has relatively less competition nearby, Martel said the location isn't as busy as he had hoped after a year in business. He's also noticed that other stores take a hit in sales when a new store opens in the area.
content of the article
An April Cannabis Benchmark report indicated that Alberta's retail cannabis market is oversaturated. Some in the industry have asked the industry regulator to consider capping new business.
"I think now everyone's got to the point where they're waiting – hoping the market will grow and the competition will dwindle," Martel said.
By the end of October, Alberta Gaming, Liquor and Cannabis said 91 pot stores in Edmonton had closed since legalization four years ago. Since then, the regulator has documented 21 new cannabis store licenses in Edmonton.
From Vera's point of view, competition is fierce in the center, where shoppers can find more than a dozen cannabis stores within a kilometer radius.
"We will reach an equilibrium point where things will even out," Vera said. "But right now it's a struggle. It's the Wild West out there."
'The tides are turning': Cannabis dealers in Alberta consider capping new business

Running Room moves to west Edmonton after 27 years