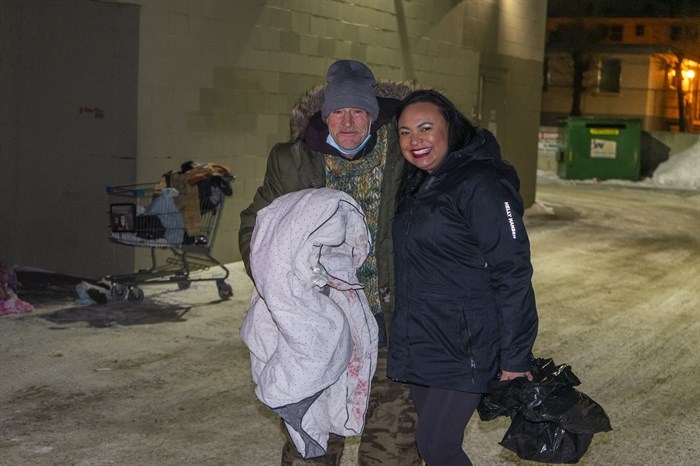 A woman in Penticton is handing out hot food to the homeless despite receiving unsavory feedback from some in the community.
Shayla Doble has been volunteering for at least five years to help her community, rain or shine, year-round.
"We go out about three times a week unless the weather is really terrible and we need more," she said.
Doble packs her SUV with hot soup and drinks, blankets and warm clothes, and hits the road at least three nights a week.
She said the number of people she's serving on Penticton's roads this winter is similar to last, but so far the weather has been more forgiving. It's the surrounding community that is less forgiving.
"I think there's definitely a different mood in the community in response to the increase in crime," she said. "Some parishioners have threatened me to stop feeding the homeless, many people have expressed the need for me to stop, it's sad. Just because someone has made mistakes in their life doesn't mean they have to starve."

CONTINUE READING: How Penticton's homeless cope in -20C at night
Doble said she stopped posting her advocacy activities on social media four months ago and is doing her rounds and fundraising more quietly. Much of the cost of her advocacy comes out of her own pocket, but Doble said it's worth it.
"It's a cause that's very close to my heart," she said. "My brother was homeless and I'm not sure he would have survived without help. Just know that someone out there is someone's brother or child. They are nice people. Some have fallen on bad times, others have lost their way or are just trying to sort things out."
Doble is supported by a small team who help with fundraising and a student who volunteers for her nightly outreaches. She said Hotel Penticton is keeping the doors to their lobby open so people can drop off food donations in one bin and warm clothing in another.
"We give hot chocolate and a hot meal and hot shifts," Doble said. "It's really about stopping and listening and connecting. Sometimes they (homeless people) feel hopeless and just need someone to listen to them."
Doble said that over the years she has never interacted with anyone who is ungrateful for her efforts.
"I've made people cry because they were so vulnerable and told their whole story," she said. "With mental health, there have been times when you have been skeptical. 95% of people react with joy. What I find interesting is that they are also very generous, I don't find much greed. It's cool to see how they care about each other."

CONTINUE READING: Decades of downloading onto cities led to homelessness in Kamloops, Okanagan today: report
Doble said temperatures so far this winter have been warmer and more manageable than last winter, barring a cold and snowy spell in early November.
"Last year we were hit by really cold temperatures, so all aid agencies are preparing for that," she said. "It's the wind chill that pulls us and the cold, damp air off the lakes."
Even on a cold Penticton night, people assigned a warm bed in one of the shelters still spend their time outside.
"I spoke to our emergency heat center and they have 30 beds, they haven't turned anyone away, but there will always be people who don't want to go to an emergency shelter," she said. "Some people have a past trauma or are reluctant to sleep with someone close to them for psychological reasons. Maybe there's someone in this warm shelter they owe money to."
Doble and her small team need blankets that get cold and wet quickly, although they are looking for a place where the blankets can be regularly cleaned and dried. They need larger coats to allow for layers, as well as mittens and gloves.
They need tarpaulins for people living on the streets to keep their belongings dry, as well as groceries, disposable spoons, cups and bowls.
Donations can be dropped off at the Hotel Penticton at 95 Westminster Avenue, which is open 24 hours a day.
---

To contact a reporter for this story email Shannon Ainslie or call 250-819-6089 or email the editor. You can also send photos, videos or news tips to the newsroom and enter a monthly prize draw.

We welcome your comments and opinions on our stories, but play nice. We will not censor or delete comments unless they contain off-topic statements or links, unnecessary vulgarity, false facts, spam, or obviously fake profiles. If you have any concerns about what you see in comments, email the editor at the link above.