CA
B.C. Order of Canada recipients include soccer star, biotech pioneer
Katrina LeBlanc is one of eight British Columbians inducted into the Order of Canada this week, four as members and four as officers, on the list of 99 Canadians added to the order.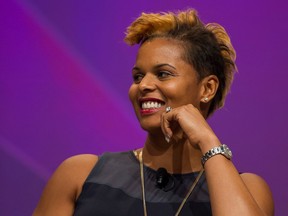 content of the article
Karina LeBlanc's accomplishments as a goaltender with Canada's groundbreaking women's soccer team and post-career leadership in the sport earned her an Order of Canada appointment in Gov.-Gen. Mary Simon's roll of honor at the end of the year.
content of the article
As meaningful as this award is for LeBlanc, who arrived in Canada from Dominica as a shy eight-year-old and rose to prominence after finding community in sports, her 2 1/2-year-old daughter Paris presented her with an even more moving award the other day.
content of the article
"She actually said to me yesterday, 'Mom, you're my superhero,' and I was like, 'OK, I win, I'm good,'" LeBlanc said. "I got some great texts yesterday, but that's probably my top (compliment)."
Simon named LeBlanc, who grew up in Maple Ridge, to be a member of the Order of Canada, one of eight British Columbians named to the honor this week on the list of 99 Canadians added to the order, four as members and four as officers.
"It was just an absolute shock," LeBlanc said of receiving the confidential email from the governor general's office, followed by a phone call about two weeks ago.
content of the article
"My dream was to win a medal and be on the podium and hopefully go to the Olympics and World Championships for Canada," LeBlanc said of what she's accomplished in her 18-year career, which includes five cup appearances and three Olympics , including with the team that won a historic bronze medal at the London 2012 Olympic Games.
"It's really special to be recognized in this way," LeBlanc said.
And something that wouldn't have been possible if her parents hadn't made the decision to give up a comfortable life in Dominica for less secure opportunities in Maple Ridge.
"If that means to me there's young girls who see a woman of color, or maybe an immigrant to this country, or someone who's been shy and bullied and[says]'Wait, if this happened to her then it could it happen for me,' I think that's the amazing thing about it. It goes beyond sport."
content of the article
The Order of Canada recognizes the service of Canadians who "shaped our society, whose innovations have inspired our imaginations, and whose compassion has united our communities," reads the annual announcement.
The BC recruits deployed as officers, the second-highest level in the three-tier award, were geographer Budd Hall of the University of Victoria for his contributions as a pioneer in community-based research; radiologist dr Paula Gordon from Vancouver; Stemcell Technologies founder and health researcher Dr. Allen Eaves; and renowned geographer David Ley of the University of BC.
Pitman Potter, Professor Emeritus of UBC's Peter A. Allard School of Law, a leading scholar of Chinese law, has been inducted as a member of LeBlanc and alongside award-winning Vancouver film director and cinematographer Vic Sarin, as has Gary Segal, philanthropist and scion of the family business Kingswood Capital of the late Joseph Segal.
content of the article
Gordon, an innovator in medical imaging and a relentless advocate for better breast cancer prevention for nearly four decades, certainly fits the definition of recognition, but she was surprised nonetheless.
She was invested in the Order of BC in 2013 but had also become accustomed to providing references for others being vetted for the Order of Canada.
"I was honestly speechless, which is not at all like me," Gordon said of the notification that she was made an officer of the Order of Canada.
Gordon cried a little at first and thought, "Wouldn't it be nice for my parents to know about the award they described as the 'penultimate' recognition for a career of hard work?
"It's a great honor, especially considering the caliber of the other members," Gordon added.
content of the article
However, her next thought was how this could help shine a spotlight on the need for better breast cancer screening across Canada.
"I've fought with anyone who has the ability to bring about change and the second thing that came to mind was maybe that will help with advocacy," Gordon said.
For Eaves, 81, appointment as Officer of the Order was "honor or for life" in a career that included co-founding the Terry Fox Lab for hematology and oncology research before founding Stemcell Technologies as a vehicle to advance leadership conduct research and provide opportunities for scientists outside of academia.
Eaves said his goal in life was "to do science in a positive way that helps patients".
content of the article
"But what's really stimulating is meeting all these bright young people who love science and are really good at it," Eaves said. "And just to facilitate what they want to do. So that keeps me young."
Ley, professor emeritus at UBC, said he was "reconciled" to the big surprise of being accepted as an officer.
"I'm an immigrant, although I've lived in Vancouver for 50 years, and there's a sense of gratitude to the nation for giving me the opportunity to thrive here," Ley said of the honor. "I think that's my most basic answer."
As an urban geographer, Ley has researched gentrification in communities. His work in understanding the impact of wealth migration under Canada's business immigrant program culminated in the book Millionaire Migrants: Trans-Pacific Life Lines, which was published to coincide with the end of that program.
"I'm not sure if that's what I'm most proud of, but it was an area of ​​influence," Ley said.
---
More news, less ads: Our in-depth journalism is possible thanks to the support of our subscribers. For just $3.50 per week you get unlimited Ad-Lite access to The Vancouver Sun, The Province, National Post and 13 other Canadian news sites. Support us by subscribing today: The Vancouver Sun | The province.