CA
COVID-19 Kraken subvariant continues to spread in Quebec
Officially known as XBB.1.5, it's the only variant whose prevalence is significantly increasing, the Quebec Public Health Institute said on Wednesday.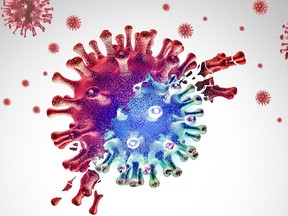 content of the article
The XBB.1.5 Omicron subvariant of COVID-19, informally referred to as Kraken, continues to spread in Quebec.
content of the article
It has been described as the most contagious variant yet and accounted for 15.7 percent of new cases in the province in the week ended Jan. 21, according to data released Wednesday by the Québec's Institut national de santé publique.
content of the article
That's up from 7.8 percent the previous week and 4.7 percent the week before.
XBB.1.5 is the only variant whose distribution is increasing significantly, as the INSPQ figures show. Up until the week before Christmas, it was barely recorded in Quebec.
Experts are closely monitoring the progress of the subvariant, fearing it could lead to a spike in cases and potentially hospitalizations.
Quebec's variant update came as the province reported that the number of people hospitalized with COVID-19 had fallen by 10 to 1,476, the lowest since early July 2022.
content of the article
In the United States, XBB.1.5 is now estimated to account for about 61 percent of new cases, according to the Centers for Disease Control and Prevention.
Also on Wednesday, the Institut national d'excellence en santé et en services sociaux in Quebec published its weekly overview of COVID hospitalizations.
The number of Quebecers admitted to hospitals with COVID fell for the third straight week in the last full week of January, INESSS said.
Based on data collected through Jan. 27, the Quebec government's Health Research Institute said it expects hospital admissions in the province to remain stable over the next two weeks.
COVID-19 update: Quebec reports eight more deaths

Quebec pushes vaccination as COVID subvariant Kraken spreads

Quebec updates Kraken situation after releasing incomplete data