CA
VanderBent: Home-care focus can make federal health funding go further
If our goal is to reduce unnecessary hospital visits, we need to know how many such visits are avoided thanks to a robust home care system.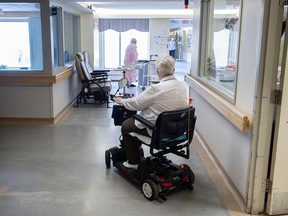 content of the article
The federal government appears close to a long-term healthcare funding agreement with the provinces, a key agreement that will reportedly include a separate bilateral agreement with Ontario on home care and long-term care. The government's ultimate goal is to relieve hospitals.
content of the article
This development is deeply encouraging. For decades, governments of all stripes have neglected the home care sector, which provides care, specialized therapies, personal support and a range of other services to people in the comfort and safety of their own homes.
content of the article
In the past, the boundaries between federal and state health funding were allowed to blur. Too often, targeted federal funding has missed its target, and the frontlines of our provincial health systems are not much different than without it.
This latest targeted funding is reportedly valued at $70 billion over 10 years – a significant sum that, if used properly, could create real change in the industry.
content of the article
Let's seize the opportunity by tying funding to measurable results. I would suggest five:
• First, we must make future health budgets transparent and hold both levels of government accountable for their promises. The final agreement should establish minimum annual funding commitments for both levels of government to ensure federal funding acts as a multiplier rather than a substitute for state funding.
• Second, we need to know if funding is enabling more people to stay at home and age.
Throughout the COVID-19 pandemic, the focus of the public – and perhaps by extension the government – ​​has been intensely focused on acute care. Hospital capacity and its proxy statistic, bed count, was the primary consideration.
content of the article
For a variety of reasons, thousands of workers left the home care system and the people who relied on that care suffered as a result. We continue to struggle at times to provide the reliable home care that people need.
Hospital capacities are important, no question. However, if our goal is to reserve acute care facilities for quick visits of patients with the greatest need, we need to measure the number of hospital visits that are avoided because of a robust home care system.
• Third, funding should be based on the assessment of caregiver burden.
Canadians spend 5.7 billion unpaid hours caring each year, according to the Canadian Center for Caregiving Excellence. The people who provide this care are, by and large, loved ones. We must not allow their mental or physical health to suffer because they have loved ones who need their care.
content of the article
• Fourth, we need to be reassured that more people have the choice to end their lives at home rather than in institutions.
Deaths at home, well supported by primary care and professional staff, can be far more desirable than deaths in a facility. They're better for the patient and better for the family (who pay a small fortune in parking fees just to congregate in sterile hospital corridors). Since hospitals focus on acute care rather than palliative cases, they are also better for the system.
As a society, our aim should be to give everyone the opportunity to choose a calm, tranquil and well-supported environment at home in the last days of their life.
• Finally, we need to know if fewer people are being institutionalized.
content of the article
According to the Canadian Institute for Health Information, in 2019 one in nine newly admitted patients could have been cared for at home.
It's a tragic statistic that points to a lack of home care. Home is a cozy, familiar place full of memories. No one should be forced to leave their home for institutional care unless absolutely necessary.
Equally tragic is the statistic for the estimated 40,000 people in Ontario alone waiting for long-term care beds.
As our political leaders envision long-term funding, it is important to consider these five key hot spots. Funding has been fluid for too long.
As the least visible pillar of healthcare, home care funding has suffered.
By insisting on measurable outcomes like those proposed here, we can finally achieve the meaningful changes our leaders intend—while putting homecare on a sustainable footing. The entire system will benefit from this, and the patients will win.
Sue VanderBent is CEO of Home Care Ontario.