Manitoba
3 dead, 4 hurt in latest California shooting: Police
content of the article
LOS ANGELES — Three people were killed and four others injured in a shooting at a multimillion-dollar short-term rental home in an upscale Los Angeles neighborhood early Saturday, police said.
content of the article
The shooting took place around 2:30 a.m. in the Beverly Crest neighborhood. This is at least the sixth mass shooting in California this month.
content of the article
Los Angeles Police Department Sergeant Frank Preciado said earlier Saturday that the three people killed were in a vehicle.
Two of the four victims were taken to area hospitals in private vehicles and two others were transported by ambulance, police spokesman Sgt. Bruce Borihanh said. Two were in critical condition and two in stable condition, Borihanh said. The ages and genders of the victims were not immediately released.
Investigators were trying to determine if there was a party at the tenement or what type of gathering was taking place, Borihanh said.
content of the article
Borihanh said police have no information on suspects. After the shooting was over, the block was cordoned off while investigators searched for evidence.
The mid-century home is in Beverly Crest, a quiet neighborhood in the Santa Monica Mountains where homes are big and expensive. The property, valued at $3 million, is on a cul-de-sac and is described on online property platforms as modern and private with a pool and outdoor shower.
LAPD officer Jader Chaves said the department didn't know if the home had a history of noise or other party-related complaints.
The early Saturday morning shooting comes on top of a massacre at a dance hall in suburban Los Angeles last week that left 11 dead and nine wounded, and shootings at two farms in Half Moon Bay that left seven dead and one wounded.
content of the article
Last Saturday, 72-year-old Huu Can Tran gunned down guests at a ballroom in the predominantly Asian Monterey Park, where tens of thousands were attending the Lunar New Year celebrations earlier in the evening. He drove to another dance hall but was stopped by an employee. Many of the dead were in their 60s and 70s.
Tran later killed himself as police approached the van he was in.
On Monday, a man shot dead four people at the mushroom farm he worked at, then drove to another farm where he previously worked and killed three people, authorities said. Chunli Zhao, 66, is in prison on charges of what police have described as a "workplace violence case" of murder.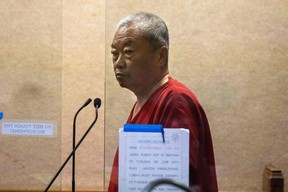 The killings have dealt a blow to the state, which has some of the strictest gun laws in the country and the lowest firearm fatality rates.
According to the Gun Violence Archive, in 2022, for the third straight year, the US recorded over 600 mass shootings, killing or injuring at least four people.