Manitoba
Former Toronto Blue Jays' star Jesse Barfield headlines Canadian Baseball Hall of Fame inductees
Barfield, Bell and Moseby are back together.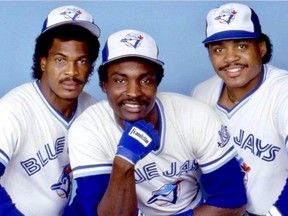 content of the article
Barfield, Bell and Moseby are back together.
content of the article
Years after they shared the turf of Exhibition Stadium, where they formed one of baseball's legendary outfields in the 1980s, each Blue Jays star will be inducted into the Canadian Baseball Hall of Fame once Barfield is enshrined in June.
"I knew at some point I would have a chance to get in," Barfield said during a conference call on Wednesday. "It worked great."
The 1986 All-Star, known for his big bat and rocket arm, will join Canadian pitchers Rich Harden and Denis Boucher and longtime baseball coach and Manitoba executive Joe Wiwchar in the Class of 2023. The four new candidates will appear in St Marys on June 17 alongside former Blue Jays first baseman John Olerud and legendary Montreal Expos broadcaster Jacques Doucet, who were elected in 2020 but were unable to attend the ceremony.
content of the article
Bell, the American League's Most Valuable Player in 1987, was inducted into the Canadian Baseball Hall of Fame in 2013. Moseby, the Jays' first outfielder to win a Silver Slugger Award, joined him five years later.
That left Barfield, the Blue Jays' ninth-round pick in 1977. He spent portions of nine seasons in Toronto and led the American League with 40 home runs in 1986, which was a franchise record at the time.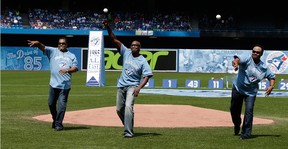 With Barfield in right field, where he won two Gold Gloves, Moseby at center and Bell on left, the Jays won their first AL East title in 1985 and became permanent contenders. Barfield was traded to the New York Yankees in 1989 for Al Leiter.
"The hard work that we put into it individually didn't go unnoticed," Barfield said. "We've worked hard and helped cement one of these great teams in Toronto."
content of the article
Harden has spent most of his nine major league campaigns in Oakland. The right-hander from Victoria, BC, debuted in 2001 and slipped seamlessly into a rotation led by established stars Mark Mulder, Tim Hudson and Barry Zito.
"There was a sense of camaraderie," he said. "They took me under their wing and made me feel like I belonged there. Being a part of it was a cool experience and something special and something I won't forget. I feel like we fed each other and helped each other play well.
Signed by the Blue Jays as an amateur free agent in 1987, Boucher started his first MLB game four years later. He made seven starts with Toronto before later moving to Cleveland in 1991.
Boucher's signature MLB moment came in 1993. After a move to Expos in his hometown, Boucher held the Colorado Rockies in a seven-inning run on his Montreal debut in front of more than 40,000 fans at Olympic Stadium. With Joe Siddall as the catcher and Larry Walker in right field, it was the first time in modern baseball history that three Canadians were in the starting lineup for the same team.
content of the article
"It would have been hard to have that game at 7 p.m. and think about it all day," Boucher said. "I think that's why I had a good game. I haven't had time to think much about it. The ovation I got… it was just amazing."
Wiwchar helped found the Manitoba Baseball Association in 1968 and later served as its president for two years. As a coach, he was an assistant in Manitoba's silver-medal squad at the 1977 Summer Canada Games and led the province's youth team to a championship in Western Canada that same year.
Nationally, Wiwchar served on the board of directors of Baseball Canada in 1974 and 1975.