Manitoba
PM, feds slammed for excluding First Nations from health care talks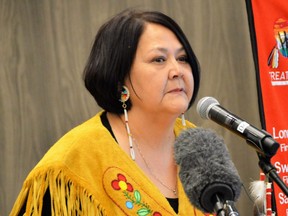 content of the article
First Nations leaders in Manitoba on Tuesday continued to criticize the federal government and prime minister for not inviting First Nations leaders or officials to an upcoming meeting to discuss the state of health care in that country, and they are asking why the FBI believes that the country's prime ministers should have the right to speak on behalf of First Nations people.
content of the article
"We know the Prime Minister and premier ministers from across Canada are meeting next week to discuss healthcare needs and we know we're not at the table and that doesn't sit well with me," Manitoba Chiefs Assembly ( AMC) Grand Chief Kathy Merrick said Tuesday morning while speaking publicly at an AMC-hosted health summit in Winnipeg. "We forwarded a letter to the Prime Minister asking him and telling him we needed to sit at the table.
content of the article
"Who gave the provinces the right to present on our behalf?"
Merrick on Tuesday was referring to a meeting due to take place in Ottawa on February 7, where Canada's prime ministers will meet face-to-face with Prime Minister Justin Trudeau to discuss healthcare and more specifically healthcare funding, as the Expect provinces and territories to receive a larger share of the annual Canada Health Transfer.
content of the article
AMC represents 62 First Nations communities in all corners of Manitoba, and Merrick said she was concerned that attendees at next week's meeting would not understand the true extent of the challenges and issues that Indigenous communities face when it comes to access to appropriate health care.
"They don't know how we live in our First Nations communities," she said. "We encourage them to come into our communities and see the poverty in which many live."
She said inadequate health care in many First Nations communities in Manitoba is leading to shorter life expectancies, chronic diseases, high rates of diabetes and other health problems.
Also on Tuesday, Manitoba Keewatinowi Okimakanak Grand Chief Garrison Settee criticized the decision not to have First Nations representation at the February 7 meeting, saying the health care challenges facing First Nations communities in the isolated communities of northern Manitoba, the MKO are often further magnified are represented.
content of the article
"It's a whole different challenge when some of these communities don't even have winter roads," Settee said. "And only we can determine what's best for our First Nations in terms of health, and our people need to be consulted and our leaders need to be consulted before we accept legislation."
"For too long we have allowed the state to dictate what happens in our First Nations communities."
The decision not to invite First Nations representatives to the meeting also drew public criticism from Southern Chiefs' Organization (SCO) Grand Chief Jerry Daniels on Monday.
On Monday, a spokesman for federal health minister Jean-Yves Duclos defended federal efforts to support health care for Indigenous peoples and to involve Indigenous leaders and organizations in health care discussions, but did not say whether there were plans to invite First Nations leaders for the February 7 meeting in Ottawa.
"Our government continues to work regularly with Indigenous communities across the country, whether through Indigenous data sovereignty consultations, various FPTI meetings, anti-Indigenous racism in the health system and other initiatives, to ensure we work collaboratively and in partnership. ' said the spokesman.
– Dave Baxter is a Local Journalism Initiative reporter based out of the Winnipeg Sun. The Local Journalism Initiative is funded by the Canadian government.