New Brunswick
Lemieux Continues to Prove Himself at the University Level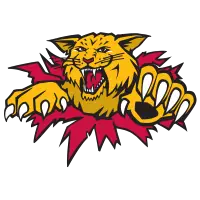 February 2, 2023 – Quebec Major Junior Hockey League (QMJHL) Press Release – Moncton Wildcats
Despite deciding to go to university, Jonathan Lemieux is still as passionate about hockey as ever.
In fact, the Saint-Hyacinthe goalkeeper QC is determined to try his luck at professional level after graduation or maybe even before if he gets a suitable offer.
After a successful QMJHL career with the Val-d'Or Foreurs, Saint John Sea Dogs and Moncton Wildcats, the 21-year-old attended the Philadelphia Flyers' training camp last September.
But things didn't go the way he wanted.
"I didn't get any offers that really interested me," he admits. "I knew varsity hockey was very good caliber and with the scholarships we get after our time in QMJHL to continue our studies, it was really enticing."
So he decided to turn to the Concordia Stingers and finance his studies.
"If I didn't get any interesting offers, I knew that this was the path I wanted to take. But if I'm offered a contract in the next few years, I'll definitely accept it," admits the one who hasn't given up the dream of making a living with hockey.
For Jonathan Lemieux it was a matter of course to start his studies in the meantime.
"Academics have always been important in my family, even though I was good at sports. But let's face it, I still have a passion for hockey," he hastily adds.
"I have always taken my studies seriously. I think it's important to have a good plan B. I want to play hockey for as long as possible, but I don't want to put all my eggs in one basket."
Most players making the transition from junior to varsity hockey go through some adjustment period, particularly in terms of playing style, schedule, and lifestyle. In the case of the Stingers' number 29, this adjustment was very quick.
"At the moment I'm doing well in school and in ice hockey. I can't ask for more," he says. "I still live with my parents, about 30 minutes from the university [in Beloeil]but I was also willing to move into an apartment if needed."
The university's schedule is very different from junior hockey, with only about 30 games per season.
"We have fewer games than in Major Junior, but we still play twice a week. This is a good thing because university takes more time than CEGEP. We have quite a busy schedule, but I'm a pretty organized guy."
Jonathan Lemieux says he really likes the style of play in varsity hockey.
"There are fewer powerhouses in the league than in the junior level. The good players are spread more evenly across the different teams, and those who have a little less talent make up for it with hard work. The table is very tight and we've seen a lot of surprises in our division."
The Stingers play in a division that includes the UQTR Patriotes, McGill Redbirds, Ontario Tech Ridgebacks, Carleton Ravens, Ottawa Gee-Gees, Queen's Gaels, RMC Paladins and Nipissing Lakers.
"Most of the players in this league are guys who have never received a professional offer. It's a fast, physical league. There are a little fewer goals around the net than in the junior class, but it's still very good ice hockey," says the net keeper.
The other big difference is the smaller crowds that follow varsity hockey.
"I spent a month [with the Flyers] in Philly. Even during training there were fans in the stands!" he laughs. "But when I'm playing my games, I'm fully focused no matter how many people are in the arena."
According to Jonathan Lemieux, the Stingers want a strong second half of the season to secure a spot at the upcoming Canadian Championship, to be played in Charlottetown in March.
In his private life, the goalkeeper wants to make a name for himself at university level in order to attract the attention of professional teams.
He is also not writing off a possible career on the old continent.
"My dream is still to play professionally in North America," says Lemieux. "I'd like to sign a contract with the American Hockey League and try to make a name for myself. But if that doesn't work out, they have some very nice leagues in Europe and that's great caliber too."
• Discuss this story on the Quebec Major Junior Hockey League message board…
The opinions expressed in this press release are those of the organization issuing it and do not necessarily reflect the thoughts or opinions of OurSports Central or its employees.

report this ad