Team NT continued the impressive Arctic Winter Games 2023 on Tuesday with Gold Ulus in Speed ​​Skating, Archery, Figure Skating, Snowboarding and Arctic Sports.
Veronica McDonald continued decades of McDonald family dominance at Arctic Sports with knee jump gold. She successfully defended a title she also won on home soil in 2018.
15-year-old Josh Wedzin of Behchokǫ̀ and 12-year-old Em Gilmour of Yellowknife teamed up to win the mixed-team barebow archery title.
Wedzin said he got into archery after seeing it on TV and movies and received a bow for Christmas 2021. When asked if the archery competition was anything like what he'd seen on TV, he said, "Not nearly as much…not nearly as flashy."
Wedzin still sees room for improvement in the individual disciplines. Gilmour said she felt "pretty good" on Tuesday despite initial nervousness.
"Sometimes being nervous makes me better and sometimes it's too much. I usually pull myself together pretty quickly," she said.
On the first day of the figure skating events, 15-year-old Yellowknife Lily Brennan produced a title-winning short program in the U19 Level 3 category.
"It felt good to get on the ice," Brennan said. "I feel like going to the Olympics is every figure skater's dream, but I just hope I can do my best and do everything I can in the sport."
Storm Cabell-White won her second snowboarding title in two days, this time in slopestyle, and there were two more Gold Ulus in short track speed skating: Sage Acorn won the U19 men's 500m and Morgan Nelson won the U16 women 400m ahead of her sister Kara in second place.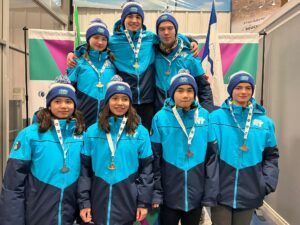 Acorn's time of 45.02 seconds beats a record set by Michael Gilday (45.37) in 2004, NWT speed skating coaches said. Gilday became an Olympic Speed ​​Skating Champion for Team Canada.
"It's a big milestone for any athlete to set a record. To me, it's a testament to how much I've worked and trained over the years," Acorn said.
"I've put a lot of effort into preparing for the games this year, I'm just thrilled."
Coach Madison Pilling said: "Another great day of personal bests, mental challenges when results didn't go to plan and great results. We are very happy for the whole team and very proud of each of them for their personal achievements."
Finally, Team NT continues to achieve amazing results in team sports with several teams going unbeaten. The curlers go first into the play-offs on Wednesday, while the youth futsal women's team has scored 25 goals in two games.
The U16 men's hockey team beat Alaska 9-2 with Nate Harris, who just turned 12, in the net. When asked if the age difference was scary, Harris said, "Not really. I have great padding."
"I was nervous at first, it was my first game. It's probably something I'll never forget," he added.
Flag bearer Kyra McDonald recovers from a shoulder injury following the hockey team's opening game. She suspended Tuesday's action.
Here's Tuesday's medals update:
GOLDEN: 13th
Sage Acorn Speed ​​Skating U19 Male 500m
Lily Brennan Figure Skating U19 Short Program Level 3
Storm Cabell-White Snowboard U15 Female Slopestyle
Em Gilmour & Josh Wedzin Archery Mixed Team Barebow
Veronica McDonald Arctic Sports Open Knee Jump
Morgan Nelson Speed ​​Skating U16 Female 400m
SILVER: 10th
Niobe Clinton Figure Skating U19 Short Program Level 1
Peyton Koe Figure Skating U19 Short Program Level 2
Kara Nelson Speed ​​Skating U16 Women 400m
Erika Pollard speed skating U19 female 500m
Bronze: 9th
Lochlan Dunn Speed ​​Skating U19 Male 500m
Seiya McEachern Speed ​​Skating U16 Male 400m
Rebecca Messier speed skating U19 female 500m
Maisey Murray Biathlon Snowshoe U16 Ladies 3km
Brooke Vallis Figure Skating U19 Short Program Level 2
Team results on Tuesday
BASKETBALL
Female 57-74 Alberta North
Male 68-86 Alberta North
CURLS
Female 14-2 Nunavut
Male 8-2 nunavut
FUTSAL
Junior Girls 0-1 Alaska
Juniors Male 2-1 Alaska, 13-2 Nunavut
Youth Females 13-0 Nunavut (Team has now scored 25 goals in two games…)
Young man 4-1 Alaka
ICE HOCKEY
U19 women 0-4 Alberta North, 1-0 Yukon
U18 Male 6-5 Alberta North (after 0-2 deficit)
U16 male 9-2 Alaska
VOLLEYBALL
Women 3:1 Nunavut, 3:1 Greenland
Male – Alaska 2-0, Nunavut 1-2