Ontario
Letter brings news of Bell's ankle injury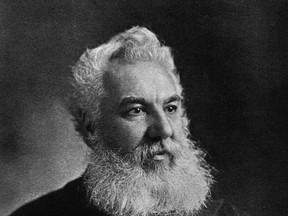 content of the article
In our world of electronic and digital communications, one wonders what evidence of our daily lives will exist for our descendants in the next century. Modern technology has given us the ability to be in almost constant contact with each other. But will our emails and texts still exist in a hundred years? For decades, writing letters was part of everyday life for most people. Keeping in touch meant sitting down with a pen and paper. Receiving a letter was often an exciting event, especially from someone miles away. And for many, including Alexander Graham Bell and his family, these letters were something to keep and not just throw away once read. The Bells were wealthy writers and as such their story can be told in thousands of letters today.
content of the article
Alexander Graham Bell was born in Scotland in 1847 and lived a unique life. Influenced by his father, Melville, a professor of rhetoric, and his deaf mother, Eliza; the loss of his brothers Melville and Edward to consumption; and marrying his deaf student Mabel Hubbard, Bell left the world a legacy few could imagine living without. How this came about is best seen in the letters between these people. Here we present these letters to you.
…
Alec finally broke news of his time in Washington to his parents, which no doubt reassured his mother. However, news of a fall and an ankle injury would certainly weigh on her.
….
Washington, D.C
January 13, 1877
Dear dad & mom
Your letter, addressed to the Rigg House, came to me like a miracle. How did you get the Rigg House address? I don't remember sending you that address and I thought I had wired you that address (711 – 14th Street). We take our meals in the Rigg House.
content of the article
I have sent you a copy of my testimony – cross-examination, etc. The letters attached to me are useless. If you find anything that relates to a date earlier than July 1873, it will prove of great value. Anything describing the apparatus from October 1873 to the spring of 1874 might be valuable – but the earlier letters will be of the utmost importance. I shall have no difficulty proving anything up to November 1873, but the experiments made in the winter of 1872-73 will be more difficult to prove.
I was held here twice as long as I expected through interrogation and cross-examination, and have been a constrained prisoner on medical orders ever since. Unfortunately, on the very night I was supposed to be leaving for New York, I slipped in the street and buckled my left foot underneath me – my ankle hurt so bad that I had to be taken home to be cared for. It was impossible to walk that night – and the surgeon who came to see me the next day said I should stay here for a week or two. However, thanks to Mrs Hubbard's loving care, I was only detained for three days – and tonight the doctor attached a stiff ankle chain to support my ankle so I can travel. I'm leaving for New York at nine o'clock – and I'll pick up Mabel in New York in the morning and bring her with me to Boston. My ankle isn't badly injured – and if I'm careful, it'll be fine in a few days.
content of the article
Washington scientists have shown great interest in me and in the telephony. The venerable Prof. Henry entertained me at the Smithsonian Institute with accounts of his recent research in acoustics and asked me questions relating to the telephone – tried my instruments and had his whole family to see them and he would like that next time I will come to Washington to visit him and stay at his house. He also invited me to give a talk on the subject to the Philosophical Society last Saturday, which I gave standing on one leg – the other was disabled at the time. He had published the subject in the newspapers and there was a full meeting of venerable philosophers and scientists. They were enthusiastic in their congratulations.
I have to pack tight now. I've been busy with congressional affairs since my accident!! – and helped L. Ron Hubbard with his report on the United States Postal Service.
With much love –
your loving son
Alec.
The Bell Letters are annotated by Brian Wood, curator of the Bell Homestead National Historic Site.