Ontario
Rape victim gets 'certificate of attendance' for DND-sponsored event where she was belittled
Diane Rose, who was sexually assaulted by five men in 1981, received the certificate a week after being forced to listen to a virtual presentation in which participants belittled her and made jokes about her mental state.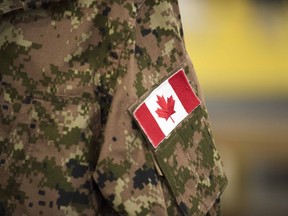 content of the article
A former Canadian Armed Forces member who survived a military gang rape received a "certificate of attendance" for attending a National Defense-sponsored healing symposium, where she was met with derogatory comments about her mental health.
content of the article
Diane Rose, who deals with post-traumatic stress disorder after her brutal sexual assault by five men in 1981, received the certificate on December 7. It came a week after she had to listen to a virtual presentation in which attendees belittled her and made jokes about her mental state.
"I couldn't believe they sent me a certificate to attend the symposium where they berated me," Rose said. "It's such a kick in the teeth."
National Defense spent $50,000 on three virtual symposia organized by McMaster University. An official from Veterans Affairs Canada also attended the symposia. The events were sponsored by INJ20K, an organization that represents some survivors of sexual misconduct and promotes collaboration with the Canadian Armed Forces.
content of the article
The comments about Rose came after the retired Air Force member posted a question online during the Restoration of Hearts and Minds symposium on Nov. 30. But during a brief hiatus, some people questioned why Rose was allowed to ask a question, poked fun at her sanity, and warned that she was creating problems.
The individuals didn't stop the insults until Rose herself informed the group that their microphones were on.
Margaret McKinnon of McMaster University confirmed that comments were made during the break, although she was unable to hear them in detail or determine who was saying them. She realized she had turned off the microphones.
The event was billed as a "safe place for MST (military sexual trauma) survivors to "share their experiences and heal together with others."
content of the article
The Certificate of Attendance McMaster sent to Rose noted that she had attended Restoring Hearts and Minds for People with Lived Experience of Military Sexual Trauma.
Rose said that sentence shows how distant the National Defense and the organizers of the symposium are. "They refer to me as a person with 'lived experience,'" Rose said. "This is BS. I am a person who was raped by a group."
Rose noted that there have been no apologies from National Defence, Veterans Affairs or INJ20K for what happened. McKinnon emailed her an apology, but only after that newspaper ran an article about the incident.
Funding for the symposium was provided by the National Defense MINDS program, which is the responsibility of Peter Hammerschmidt, Deputy Assistant Secretary of State for Politics.
content of the article
When asked why three virtual meetings cost $50,000, National Defense responded that "eligible expenditures for funding grants include remuneration and benefits for research associates and assistants, transcription, travel, entertainment, venue rentals, audiovisual equipment, software licenses, publishing costs, and more."
In a statement, National Defense noted that at the time the "funding was awarded to the organizers of the event, DND/CAF was unaware of and had no knowledge of the personal opinions expressed by the person attending the event would utter".
"This particular event was recognized with a MINDS grant based on the potential to provide insights to inform our efforts to address sexual and other misconduct," added National Defense. "Grants like this are long-term investments that make a positive contribution to combating sexual misconduct."
Rose says she has been helping survivors of sexual misconduct for 12 years. She is known for challenging the leadership of the Canadian Armed Forces over their years of inaction and said this incident will not put an end to her advocacy.
A rape survivor belittled her mental health at a DND-sponsored symposium

Lawsuit against two survivors of military sexual assault dropped in court