content of the article
You no longer have to wonder what a copsicle looks like.
content of the article
Midst Temperatures of -15°C – which felt like -22°C when the wind chilled, Strathcona County RCMP support. Dale Kendall participated in her first Polar Plunge in support of Special Olympics Alberta on Saturday, January 28th at Edmonton's Summerside Lake.
"It was cold beyond what any normal person thinks is cold. It was incredibly cold. It was like my soul was floating above me," Kendall said The news laughter on Monday. "It was absolutely freezing but there was a great atmosphere, everyone was excited because they haven't made it in the past few years. It was such a community based, joyful environment. Everyone was thrilled to support such a great cause."
Kendall was joined by Strathcona County Director of RCMP Supports and Enforcement Services Tom Sutton, Dave Ainsworth, Corporate Security Advisor, and Steve Schmidt, Community Peace Officer. Overall, the local contingent raised more than $3,000 for Special Olympics.
content of the article
Edmonton Police Chief Dale McFee, who had attended many falls before, gave Kendall many survival tips, such as wearing an old uniform and sneakers and wearing layers.
But all these preparations could not prepare them for the point of impact.
"Even as you approach the water, you get the excitement of the moment. But when I hit that water I won't lie, it hurts. It just takes your breath away. But you're only submerged for a short time and people are there to help you out of the water. Everyone is clapping and you feel really supported, but it was really, really cold – I can't stress that enough."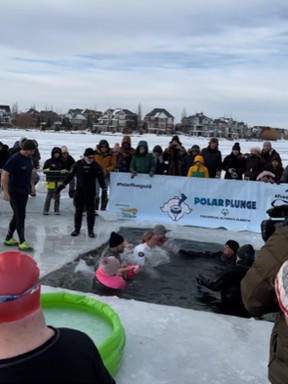 While Kendall took the plunge and ticked off a big item on the bucket list, the moment meant so much more as Strathcona County is set to host the 2023 Special Olympics Alberta Winter Games in just a few short weeks.
content of the article
"It has special meaning to me personally and I know it means a special gathering for all of our community partners and stakeholders and our local Special Olympics athletes. It just shows that we are responsible and want to do our part to support Special Olympics athletes," noted Kendall.
She even met many Special Olympics athletes in the warm-up tent before her jump, some of whom were wearing medals they had won in previous games.
"They have an incredible heart, incredible dedication and the most positive attitude that's just cohesive," said the local superintendent. "If I hesitated even a second before jumping into that water, all I had to think about were these athletes and the kind of financial support they will receive as a result. If there's anything that motivates you to jump into the ice-cold water, it's this."
Nearly 200 people attended Saturday's event, which marked the first in-person jump after two years of virtual support.
As of Tuesday night, more than $117,000 had been raised for the charity, getting closer and closer to the $150,000 goal.
Donations can be made online at https://soa.crowdchange.ca/26896 until 19.02.
twitter.com/LindsayDMorey