Quebec
Justice often delayed for Quebec victims of racial profiling: study
The study examined more than 100 decisions made by criminal, criminal, civil and administrative courts between 2016 and 2021.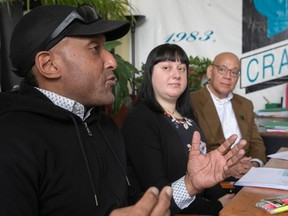 content of the article
A new study shows that Quebecers who make official complaints about racial profiling often face major obstacles to justice and redress.
content of the article
Many grievances are dogged by procedural wrangling, excessive delays, meager redress for human rights cases, or modest disciplinary action taken against police officers for misconduct – resulting in inadequate redress for victims of racial profiling, the authors say.
content of the article
The study, the first of its kind in Quebec, examined more than 100 criminal, criminal, civil and administrative court decisions between 2016 and 2021.
A preliminary review of the data raises questions about victims' access to justice, according to researchers at the Institute for Research and Education on Race Relations (IRERR).
The preliminary findings focused on 25 racial profiling decisions by the Quebec Human Rights Tribunal and 13 by the Quebec Police Ethics Committee, affecting 36 victims, almost all black males.
content of the article
All complaints concerned the police.
The study shows that victims often have to wait years for a hearing. Here are some of the results:
— Excessive delays: It took an average of five to seven years before a complaint was lodged with the Human Rights Commission at the Human Rights Tribunal and a final decision was made. The worst case involved an 88-month delay, which the court eventually dismissed for excessive delays.
— In police ethics cases, it took an average of three years for a complaint to reach the ethics committee.
— Inadequate damages for civil rights violations: Of the three successful Human Rights Court decisions, moral damages ranged from $8,000 to $15,000, while punitive damages against officers ranged from $1,000 to $2,500.
content of the article
— Only three of the 13 decisions by the police ethics committee resulted in sanctions against officers for racial profiling.
Almost all decisions with sanctions are challenged by the officials.
"All too often we only focus on police interactions with citizens, but today's data should encourage us to shift our focus to what happens to victims when they try to take legal action against racial profiling," said Stéphane Thalès, project coordinator at IRRR .
Of the 36 victims, 89 percent were black adults. Anglophones made up about 56 percent of the victims. That's likely because many English-speaking black people have lived in Quebec for two or three generations and are more aware of their rights and less afraid of standing up to authority, said Fo Niemi, executive director of the Center for Research-Action on Race Relations (CRARR ).
content of the article
Approximately 55 percent of the 27 incidents in the study were black driving cases.
In November, the Quebec government announced it would appeal a recent court ruling abolishing random police checks. The verdict was made on the grounds that the practice facilitates racial profiling.
The study also examined the profile of judges in the 38 human rights court cases and decisions of police ethics committees. Of the 15 judges involved in both tribunals (eight men and seven women), only one is racial.
IRERR's online racial profiling survey of 160 participants also provides worrying data on victims' reactions after encountering racial profiling. Of the 122 respondents who experienced profiling, 77.9 percent did not report or respond to it, most citing reluctance to authorities (23.4 percent) and the justice system (20.7 percent), perceptions of inadequate punishment (19.9 percent) and missing information on recourse (14.9 percent).
content of the article
"These preliminary findings confirm the existence of major challenges for victims of racial profiling when it comes to accessing justice and redress, at every step of the judicial process," said Kathleen Barera, Complaints Officer at CRARR.
Preliminary results were released on Wednesday to mark Black History Month. The full results will be available in March.
The study was funded by the Canadian Heritage Department's anti-racism program.
Hanes: Quebec's appeal of the racial profiling ruling is no longer up to date

Racial profiling complaint from Montrealer is a first in Quebec: group