Quebec
Tesoro keeps rolling and reaches tourney championship game with victory over Tustin
Carson Brown (left) and Nathan Draper led Tesoro to semi-final victory. (Photos: Tom Connolly, for OC Sports Zone).
The Tesoro High School boys' basketball team continued its winning streak with a 59-51 win over Tustin in a Tustin Classic semifinal game Thursday night in Tustin.
Carson Brown, Jake Bennett and Nathan Draper each scored in double digits as the Titans (15-2) won their fourth straight game and advanced to the finals against Los Alamitos at 7:30 a.m. Friday night.
Los Alamitos defeated Beckman 56-36 in the other semifinal.
Brown drilled three 3-pointers and led all scorers by 21 points.
"Our goal was to stop their key guys and I think we did that solidly," said Brown, who has guided Tesoro to three straight wins in the tournament over Westmont, Woodbridge and Tustin.
After an early deficit, the Titans went on a 13-0 run midway through the first quarter for a 17-7 lead that was capped by two free throws from Draper. Brown, Bennett and Draper each scored during the Titans' surge coupled with Tesoro's defense, led by Carter Johnson and Blake Manning, and kept the Tillers scoreless for nearly four minutes.
"We knew we were taller than them, so we tried to keep the pressure on them," Draper said. "We're delighted that tomorrow we'll have the chance to win our third tournament championship."
Brown, Bennett and Draper combined for 18 of the Titans' 23 points in the second quarter while Tesoro led 40-25 at halftime. The Titans converted all 10 of their holdings in the second quarter.
"They're a talented team and we didn't play at the level of defense in the first half that we need to play to beat a team like Tesoro," Tustin coach Ringo Bossenmeyer said. "We played more physically and we surpassed them in the second half, but we're not out for moral victories. We have to play a full game to win."
The defense picked up pace in the third quarter as both teams' shots slowed. Tustin and Tesoro made a basket together in the last five minutes of the quarter, but the Titans led 48-33 after three periods.
The Tillers fought on to the end, but they were running out of time. Eli Nyeazi led Tustin (10-5) by 14 points and Josh Birket added 10 points. Bennett finished with 13 points and Draper had 12 points for Tesoro.
"I think our defense played consistently and that was the key to our win," said Titans coach Steve Garrett. "We took care of the ball and made less than 10 turnovers."
To view the photo, click on the image: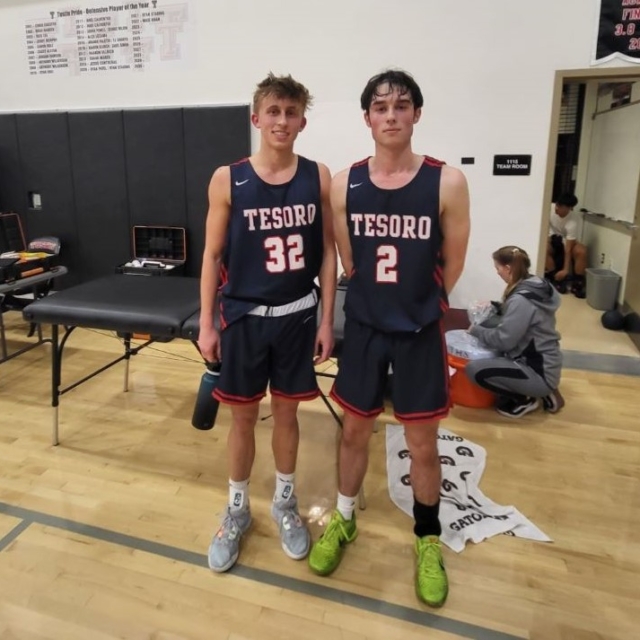 Carter Johnson (left) and Blake Manning showed excellent defensive plays for Tesoro on Thursday night.
TIED TOGETHER:
(PHOTOS): Tesoro runs past Woodbridge in quarterfinals
– Tom Connolly, for OC Sports Zone