Saskatchewan
Drone drops weed, rolling papers at Kingston correctional centre
Staff vigilance resulted in the package being intercepted at an Ontario institution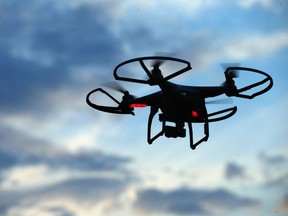 content of the article
It was far from a happy holiday season for the intended recipients of various contraband gifts, including cannabis reportedly delivered by drone to the Joyceville Institution near Kingston, Ontario. earlier this month.
content of the article
On Dec. 27, the vigilance of personnel at the multi-level security facility led to the interception of a package containing contraband and unauthorized items, the Correctional Service Canada (CSC) said in a statement.
content of the article
The items seized included, in particular, 149 grams of cannabis, 109 grams of tobacco, cigarette papers, mobile phones and telephone accessories.
Weed, shatter and crystal meth seized after another alleged drone drop at Ontario jail

Cannabis concentrates seized by correctional officers at BC prison

Ontario prison receives multiple packages of contraband delivered via drone
Cannabis is not permitted in CSC facilities and is considered contraband, which includes intoxicants, guns and ammunition, cash, explosives and cigarettes.
content of the article
"In general, contraband includes any item that could jeopardize the security of an establishment or the safety of individuals if that item is not possessed without prior authorization," the federal ministry notes.
The Joyceville Institution — a clustered facility with both a minimum security site and a reception/temporary detention site with direct observation cells located 25 kilometers northeast of Kingston — has numerous security tools available to staff, such as e.g. B. Ion scanners and sniffer dogs to search buildings. personal property, occupants and visitors.
The CSC did not disclose the institutional value of the discovered contraband or the location of the package. CTV News reports that items were suspected of being delivered by drone.
content of the article
A drone was also believed to have been used to transport another find at the correctional facility last month. Global News reported that on November 26, officers intercepted 475 grams of tobacco, rolling paper, 220 grams of cannabis, 28 grams of weed concentrate and a cell phone.
As early as mid-October, employees found a package containing 205 grams of tobacco, 215 grams of cannabis, 132 grams of shatter (marijuana concentrate), 110 grams of hashish and an unidentified number of mobile phones and related accessories during checks on October 14. The contraband is believed to have been delivered "as a result of a suspicious drone drop," CSC noted at the time.
Cannabis or cannabis-related products were also discovered at the facility at least twice this past spring. In late March, staff seized items containing about 20 grams of tobacco and 29 grams of shrapnel, while in late April they seized just over 201 grams of cannabis and just under 200 grams of tobacco with an institutional value of $41,000.
content of the article
Also this week, about a half hour's drive from Kingston, CSC announced that on December 15 medium security staff at the Bath Institution had seized about 196 grams of shrapnel, 62 grams of tobacco, 40 grams of cannabis and 30 grams of cocaine. The contraband and unauthorized items were contained in multiple packages.
Also during this holiday season, contraband containing 332 grams of hashish and 600 grams of tobacco, which has an estimated institutional value of $57,200, was seized at the Drummondville Medium Security Institution in Quebec, and contraband worth $33,180, namely 332 grams of hashish , was seized December 12 at the Cowansville Institution, also in Quebec.
We'd love to hear from you. Contact us with feedback and story tips at [email protected]