Saskatchewan
Fajardo ready for bittersweet end to Roughriders' career
Quarterback Cody Fajardo sounds like he's primed for the end of his stint with the Roughriders.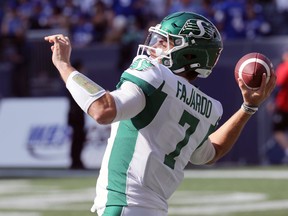 content of the article
Cody Fajardo is unsure of his football future but it doesn't look like the Saskatchewan Roughriders are included in those plans.
content of the article
"There's going to be a lot going on, but I owe it to myself to see what's out there and put it out there and see what happens from there," the Riders' veteran quarterback said after practice on Tuesday at AffinityPlex. "I will not exclude any team. I want to play some more football so I'm not sure what's going to happen."
content of the article
The Riders quarterback was benched in favor of Mason Fine ahead of Saturday's 32-21 loss to the Calgary Stampeders. The result dashed the Riders' small playoff hopes.
Riders head coach Craig Dickenson confirmed Tuesday that Fine will get his second straight start against hosts Stampeders on Saturday. Fajardo will likely be Fine's backup in a regular-season game meaningless for either team.
content of the article
"I've had a lot of great messages from fans over the past week that have made this difficult situation a little bit better," said Fajardo. "A lot of people really care about me, my wife Laura and my son Luca and this will always be a second home for us as our son will be born here.
"It's bittersweet because I gave everything I had for this organization. It's disappointing to tell the truth."
The sports world is constantly changing, and so are the times. Supplement your regular sports coverage by subscribing to Regina Leader posts 306 sports fix Newsletter. Each week, Sports Editor Rob Vanstone will provide additional commentary on the Roughriders, Pats and other teams/sports of interest, along with a behind-the-scenes look. Click here to login.
Rob Vanstone: Awkwardness and indifference characterize the Roughriders' ailing season

Spark was absent as Riders pulled out of the playoff chase