Saskatchewan
Letters: Care at Pasqua Hospital emergency unit a pleasant surprise
"The frontline staff at Pasqua Hospital do an excellent job of serving those who need their services," writes Anne-Marie Demyen.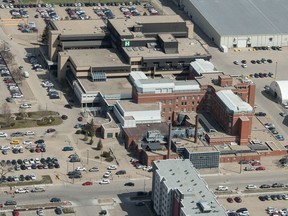 content of the article
On January 19th I went to the Pasqua emergency with a broken arm. From virtually every news report I've read or heard over the past few years, I assumed this was going to be a long, miserable, uncomfortable, and overcrowded experience.
content of the article
Amazingly and very thankfully, this was not the case at all.
content of the article
My husband and I went to an emergency and straight to a kind, compassionate and accommodating receptionist. She referred us to a triage nurse who was very similar.
After taking my vitals and gathering information about my injury, he sent us to "stream". I don't know who discovered and implemented this system, but it's amazing. The nursing staff and Dr. Tiann O'Carroll in streaming were professional, efficient, knowledgeable, compassionate and thoroughly entertaining.
All told, I was at Pasqua Hospital less than three hours. I had a quick tour of the facility, including a brief and equally pleasant visit to the X-ray department. I walked with my arm in a sling, some practical advice, and a contact name and phone number for the surgeon who will be with me throughout my recovery.
content of the article
This was by far the most positive and least stressful experience I have ever had in a healthcare facility.
I know that our healthcare system faces many serious challenges. Despite this, the frontline staff at Pasqua Hospital do an excellent job of helping those who need their services.
Anne Marie Demyen, Regina
Cursed by not having access to Oak Island
About 65 years ago I read a book about Oak Island. I have never forgotten the book. Ever since the Oak Island story aired on TV, I've been following the series.
When researching Oak Island on the internet, I was surprised to learn that two Americans, Rick and Marty Lagina, have bought much of the island and tours are no longer allowed. They also get paid well for the show.
content of the article
How can our governments allow this? My wife and I were talking about going to Nova Scotia this summer and one of the stops was going to be Oak Island. That's very disappointing.
Robert Bechard, Regina
Time to get involved again with Weltkinderhilfe
The pandemic has destroyed children's education, which was already an existing problem. Around the world, around 130 million girls between the ages of 16 and 17 still do not attend school.
Canada's international aid, pledged before the pandemic, has been exhausted. What we need is a renewed commitment to increase our total international aid envelope to $10 billion by 2026, and within that increase the share devoted to education to more than 10 percent. We owe it to the children of the world.
content of the article
Randy Rudolf, Calgary
Steven Lewis: Why we want Canadian healthcare remains elusive

Staff at Regina's emergency rooms "overwhelmed," according to a memo obtained by NDP
SHARE YOUR VIEWS
The Leader-Post welcomes letters, which should include the writer's name and phone number.
Submissions will be reviewed and processed prior to publication.
We publish the names and community of all letter writers.
E-mail letters are preferred, but do not send letters as attachments.
It is discouraged to write more than one letter per month and 'open' letters will not be accepted.
Email: [email protected]
Send to: 300-1964 Park St., Regina, Sask., S4N 7M5
Want to know how we decide what to cover and how editorial decisions are made at the Regina Leader-Post and Saskatoon StarPhoenix? Get the weekly newspaper Editor's letter Newsletter from Editor-in-Chief Russell Wangersky and join the discussion on what's behind reporting news and providing commentary, both in print and online. Click here to login.