Saskatchewan
Pie auction returns to Good Hope Community Hall
content of the article
You can be sure that this is not a half-baked event.
content of the article
The Good Hope Community Hall Pie Auction and Social returns for the first time since 2020 on Saturday, February 11, and organizers said there would be a wide range of baked goods and homemade foods in the auction block.
"We start in the evenings around 7pm and it's free to enter, you just need to get an auction number and we have a live auction for baked goods, tarts, cakes, buns and all kinds of baked goods. We also have a silent auction happening at the same time," explained Terri-Ann Trohubiak, President of the Good Hope Community League. "Middle of the night we stop for a little break and then we have the social part of it and we have snacks and treats and you visit the neighbors."
Volunteers will decorate boxes and fill them with goodies, which will then be auctioned off when the live auction ends just before 10pm
content of the article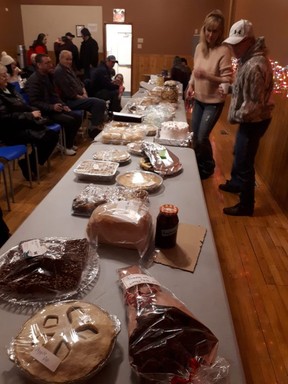 Trohubiak said the event has been around since the 1990s and she's excited to be back this year.
"Last year the restrictions were lifted, but I didn't have enough time to make sure I could invite everyone and set everything up, so we didn't do it last year or the year before that," Trohubiak explained. "We had one in 2020 just before the restrictions were put in place."
The silent auction will also include a variety of items donated to the community hall for sale.
"We raise money to bring programs to the hall and if we have excess money we donate it somewhere or to a specific cause. We made a donation to Heartland Hospice a few years ago that was well received by them," Trohubiak said. "We do a lot of activities indoors and that helps bring those activities indoors."
content of the article
In 2020, Hall members were able to raise a few thousand dollars, and the group hopes the auction's return will bring back some funds.
"Our goal is to have fun and meet some new neighbors in the area. It's a fundraiser, but it's more of a bonding thing, checking in with the neighbors and making sure everyone is okay," Trohubiak said. "We have members of the hall, members of the community and they make cakes and other things like pickled eggs, beef jerky and a bunch of things. There is always something for everyone. Some of the cakes are baked in the morning and there are many different flavors."
The group continues to accept cakes and baked goods, as well as silent auction items.
The auction will take place on Saturday February 11th from 7pm at the Good Hope Community Hall at 542 Township Road 21076
Visit the Good Hope Community Hall Facebook page for more information.
twitter.com/travisdosser