Saskatchewan
Seven years have flown by for U of R Cougars' Brayden Kuski
Brayden Kuski is gearing up for his final two home games with the University of Regina Cougars men's basketball team.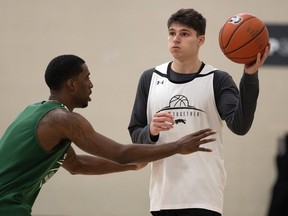 content of the article
Brayden Kuski is a seventh and fifth year member of the University of Regina Cougars men's basketball team.
content of the article
A redshirt freshman in Canada West's 2016-17 season, Kuski also competed in the U of R when the 2020-21 campaign was wiped out by COVID-19.
content of the article
Tackle the five seasons that Kuski has excelled for the Cougars, and it's quite a run — one that will be welcomed on Saturday when he and the other U of R graduate basketball players at seniors night at the Center for Kinesiology, Health, and Sports.
"It's a crazy feeling because I've been doing this for so long," says Kuski, 25. "I've been playing basketball for about 15 years now. This is the end, so it's kinda bittersweet.
"I'm a little bit ready to move on, but yeah, it's probably going to be a little bit sad."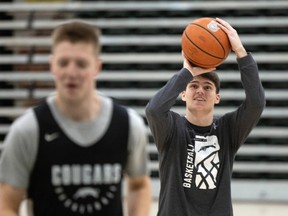 Kuski's last two home games with the Cougars will be against the University of Calgary Dinos on Friday and Saturday. Both competitions start at 8pm, following the Cougars Dinos women's games which are scheduled for 6pm
content of the article
The women's team consists of just two fifth-year players – Dayna Pearce and Zoe Hartmann. For the men, Kuski joins Carter Millar, Nigel Warden, Majok Madol and Hayden Collier in the ranks of fifth graders.
"It was a really fun time," Kuski recalls. "It had a lot of benefits and I was able to work towards a business degree while playing. I've had the opportunity to see different cities and sort of be all over Canada and we also went to Los Angeles once for Christmas.
"It was a really crazy opportunity."
Kuski was an accomplished athlete even before he enrolled at the U of R.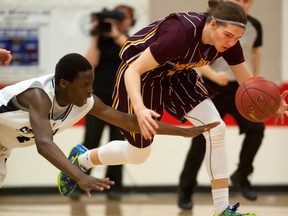 In 2015 and 2016, he helped the LeBoldus Golden Suns win city and provincial senior basketball championships. He also played for LeBoldus as quarterback.
content of the article
"I could probably have stayed with football if I had wanted to, but I was immediately determined to play basketball," said the six-foot-tall, 190-pound guard. "I felt like I was a little bit better at basketball than I was at football, so I went that route."
That's saying something, considering Kuski piloted LeBoldus to a 52-20 win over the Saskatoon Holy Cross Crusaders in the Saskatchewan High Schools Athletic Association 4A Championship game played at Taylor Field on November 14, 2015.
On his retirement from high school football, he threw for 282 yards and four touchdowns.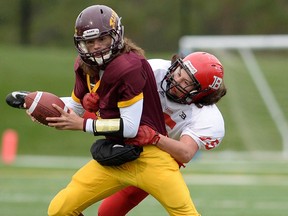 The following March, he scored 27 points as LeBoldus won the SHSAA 5A boys basketball title in an 80-75 win over the Prince Albert St. Mary Marauders at Moose Jaw.
content of the article
Not long after, Cougars men's basketball coach Steve Burrows announced that three members of that LeBoldus team — Kuski, Millar, and Ben Hillis — had committed to the U of R.
Hillis graduated in 2022 when he was named a Canada West first-team All-Star and winner of the conference's Student and Athlete Community Service Award.
Additionally, Hillis was honored by the U of R for Male Athlete of the Year and received the university's coveted President's Award.
As a capper, Hillis was honored with the Ken Shields Award, which recognizes the U Sports player who demonstrates the finest excellence in basketball, academia and community involvement.
Now it's time for Kuski, Millar and their friends to be welcomed, as they will be on Saturday night — a week before the Cougars wrap up a two-game set against the MacEwan University Griffins in Edmonton.
content of the article
"It feels like time has flown by," marvels Kuski. "It doesn't feel like I've been here for seven years, that's for sure."
The sports world is constantly changing, and so are the times. Supplement your regular sports coverage by subscribing to Regina Leader posts 306 sports fix Newsletter. Each week, Sports Editor Rob Vanstone will provide additional commentary on the Roughriders, Pats and other teams/sports of interest, along with a behind-the-scenes look. Click here to login.
Rob Vanstone: The Cougar hiatus finally ended last weekend

Carter Millar is looking forward to stretching with the Cougars men's basketball team