Saskatchewan
Vanstone: Randy Mattingly and the Roughriders' major-league connection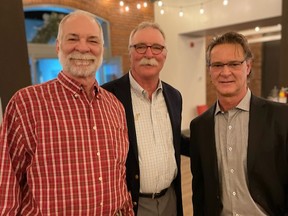 content of the article
Randy Mattingly is understandably proud of his close association with two legendary No. 23s.
content of the article
Don Mattingly, one of Randy's three brothers, wore the No. 23 with honors throughout his career as a Major League Baseball player with the New York Yankees.
content of the article
"Donnie Baseball" – the newly appointed bench coach of the Toronto Blue Jays – has long been a fixture at Monument Park at Yankee Stadium, along with Babe Ruth, Lou Gehrig, Mickey Mantle and others.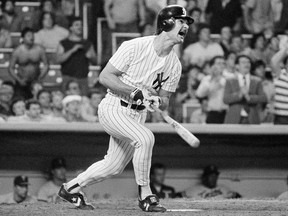 The other notable No. 23 belonged to Ron Lancaster, who was quarterback for the Saskatchewan Roughriders from 1963 to 1978. Randy Mattingly was Lancaster's understudy in the mid-1970s.
"Randy could be the quarterback we've been looking for to fill Ron Lancaster's place when he retires," then-Roughriders head coach John Payne said when the CFL team signed Mattingly on May 10, 1974 announced.
content of the article
"He could be the Riders' next super quarterback."
He's still a super guy to this day.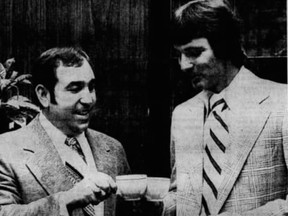 Mattingly, who is now 71 and resides in Henderson, Ky. lives across the Ohio River from the family's hometown of Evansville, Indiana, fondly remembers his time in Saskatchewan.
"I fell in love with the prairie just because I could see so far," he recalls. "It was pretty spacious. Where I come from it's hills and trees. You can see maybe 100 meters if you are not in the right spots."
One of the first places Mattingly discovered upon arriving in Queen City was the University of Regina, where the Roughriders once held a training camp.
"One time they stopped training and we were informed that there was a tornado warning," he says. "They wanted the tornado to pass, but it wasn't imminent that it was coming our way, so we climbed onto one of the Luther College buildings.
content of the article
"You could see two tornadoes. It looked like puppies were playing out there. One followed the other. So it got really dark as it came down and picked up this earth in the air. I found that pretty wild. If you see tornadoes in this area, they are overhead."
There was a whirlwind of excitement when the Roughriders signed Mattingly, who had been selected by the Cleveland Browns in the fourth round (100th overall) of the 1973 draft after appearing as quarterback and punter at the University of Evansville.
At 6ft 4 and 205lbs – imbued with a rocket-powered throwing arm and a winning personality – Mattingly was straight out of Central Casting.
He joined the Roughriders when Lancaster was 35 years old. At the time, nobody knew that he would still be playing when he was 40.
content of the article
He rarely missed a game, let alone a game, so time behind the center was tight for everyone else masquerading as quarterback for the Green-Whites.
Mattingly, however, capitalized on one of his first opportunities to play, entering the game in what was perceived as a clean-up role and eventually flirting with a monumental comeback.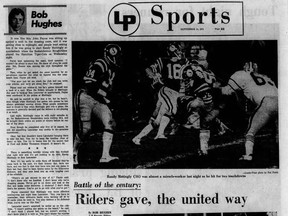 On September 13, 1974, in the fourth quarter of a home game against the Edmonton Eskimos (now Elks), Mattingly replaced a struggling Lancaster who held a seemingly secure 24-4 lead.
Mattingly threw two touchdown passes — a 26-yarder to Leif Pettersen at 8:18 and a nine-yarder to Bobby Thompson at 10:44 — to suddenly make things very interesting. A third TD pass was called off for a penalty.
Saskatchewan started their final possession at their 35-yard line with 2:06 remaining. After generating a first down, Mattingly went looking for Pettersen again only to be intercepted by John Beaton.
content of the article
Despite that selection, which gave Edmonton a 24-18 win, fans and media alike raved about Mattingly's brilliance. But there was never any doubt that Lancaster would keep playing, and well.
"He was great to work with," Mattingly recalls. "If there was anything you wanted to know, he would help you."
Mattingly threw just 22 passes in 1975 (43 fewer than the year before) before being dropped as a substitute by Dave Syme in 1976. Symes' cause was aided by his Canadian passport.
Next stop for Mattingly: Hamilton, where he played in three games – one of which was his only CFL start. As it turned out, his last game was a home game against the Roughriders on August 7, 1976.
Coincidentally, when Lancaster arrived in Regina, his last head coach in the CFL (Bob Shaw) 13 years earlier had also been the field boss in Saskatchewan.
content of the article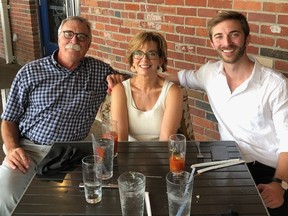 Mattingly himself became a high school-level coach and teacher for three years after returning to Evansville. He spent the next 30 years in the management of Alcoa, one of the world's leading aluminum producers.
Most important in his post-football era was the introduction to his wife-to-be (Melissa). They are the proud parents of Erin and Will.
Randy and Melissa, happily married for 42 years, love their rescue dog. Divot, a 14 year old terrier cross, was found on a golf course.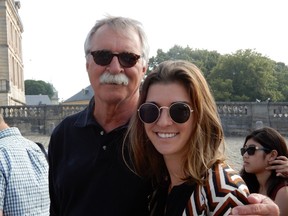 The Mattinglys are excited to chart a course back to Canada after Don, who has made it into the big leagues with the Los Angeles Dodgers and Miami Marlins, has been named right-hand man to Blue Jays skipper John Schneider.
So, after 46 years, a member of the Mattingly family is once again employed by a Canadian professional sports franchise.
content of the article
Recalling the first chapter, Randy rattles off the names of former Roughriders teammates – Lancaster, Pettersen, Thompson, George Reed, Jim Hopson, Steve Mazurak, Ted Provost, Clyde Brock, Ken McEachern, Lee Benard, Frank Landy and Lawrie Skolrood Naming Do some – and share some experiences that were, well, unique.
Mattingly played here, remember, when the Roughriders dressing room was at the showgrounds. The practice field was surrounded by a racecourse.
"We were out practicing and the trotters were practicing," says Mattingly.
"The boys would make fun of you and say, 'Hey, we'll send you to the race tomorrow.'
"It was fun. There are a lot of good memories.
"And there were all the geese in Wascana. Is it still like that?"
Time flies like geese, but some things never change.
The sports world is constantly changing, and so are the times. Supplement your regular sports coverage by subscribing to Regina Leader posts 306 sports fix Newsletter. Each week, Sports Editor Rob Vanstone will provide additional commentary on the Roughriders, Pats and other teams/sports of interest, along with a behind-the-scenes look. Click here to login.